with it being winter, theres nothing going on in the garden. the seed catalogs have started pouring in my mailbox, and january is typically when i pour thru them and imagine all the wonderful things i could grow, then narrow it down to just a couple new things to try.
so instead of gardening news, i'm extremely excited to show off my new kitchen set! my parents neighbors generously donated me their old set! and my dad graciously hauled it up to my house. the set is wonderful sturdy. the table and chairs are solid wood, and did i mention gorgeous? and look at the gorgeous hutch! it brightens up my dark little dining room immensely! so without further ado, lookey lookey what i got!!!
heres the old kitchen set i had. this is the metal edged formica kitchen table from my childhood. this table is older than i am. it is permanently discolored and getting wobbly from the many moves its been thru, and the constant dis-assembly and reassembly that its survived with me. i'm also pretty sure the tiny jelly palm print on its underside was mine.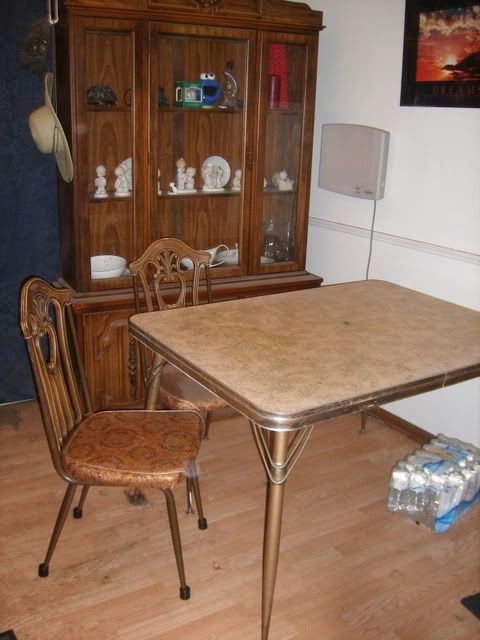 also included in the set is a butcher block island and two bar stools. i have not found the right home for this yet, but think it might go into the basement in the roommates makeshift kitchen. the roommate is tall where i am not, and the tall height of the island would suit him well.
i'm extremely excited! many thanks to my parents neighbors and my dad for making this happen!