on 7/28/12 my mom and i went to my brothers friends house to do some canning. his friend has a lovely kitchen, and i didnt take any pictures of it!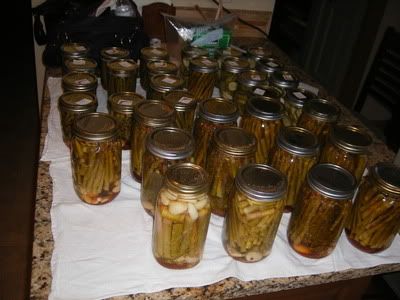 last weekend my mom picked me up and took me to the farmers market. we bought 5 bunches of dill and some smaller cucumbers. my brother and his friend picked up 8 large bunches of asparagus from sams club, along with pre-peeled garlic and a few green beans.
all ready peeled garlic, how awesome and time saving is that! we used about 2/3 of the bag.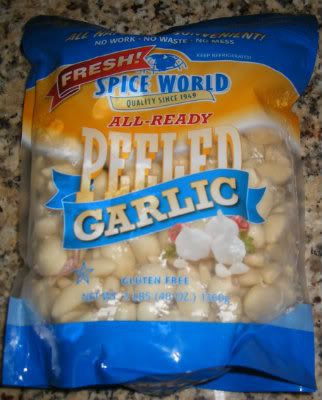 five bunches of dill (last time we ran out, so we wanted to make sure we had plenty. we used most of it.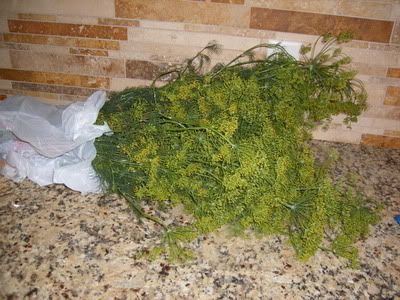 asparagus and beans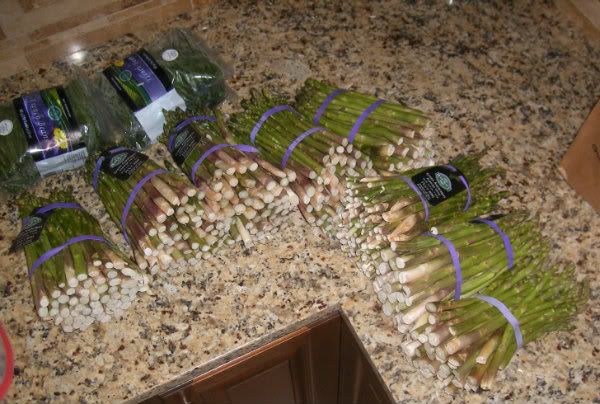 smaller cucumbers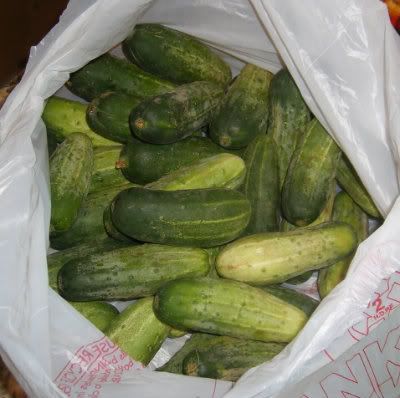 pickle slicers! because my mom and i really enjoyed the ones we'd made two years ago (the last time we pickled stuff).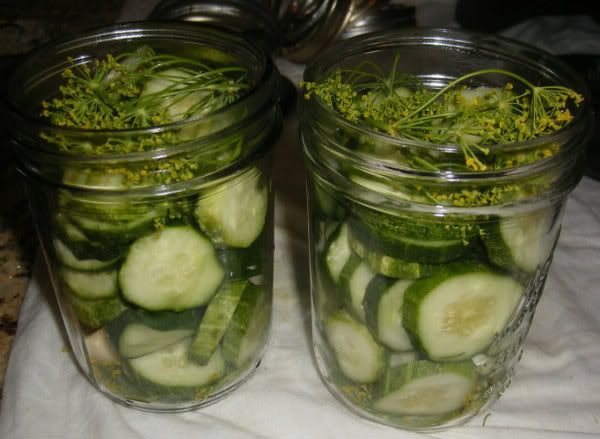 mmmm, pickles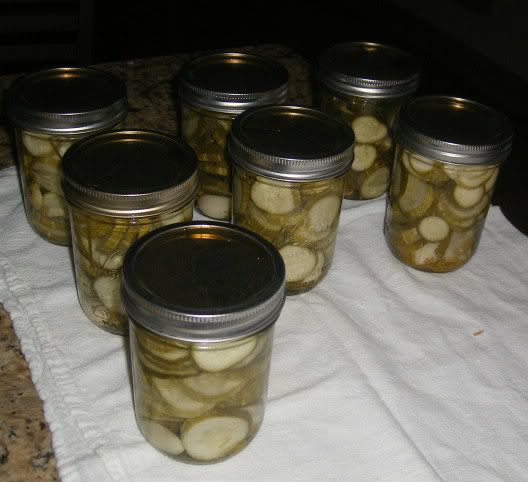 dilly asparagus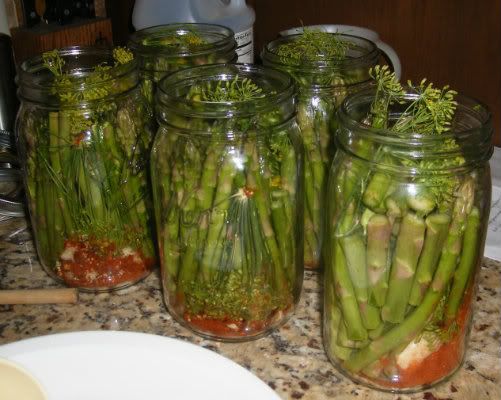 ends and leftovers. they trimmed and discarded the raw ends off all the asparagus to clean them up. but then they had to cut another inch or two off the bottoms to make them fit in the quart jars. they made a jar of the ends last time we did this and they were just as good as the whole stems. so this year they pickled all the extra end pieces. and one of their friends really liked the pickled garlic, so they threw in a bunch of extra of that too.
we had one jar blow out. this happens occasionally with older jars. we also had one jar crack, but not come apart. it just didnt seal. this one dumped its guts all over the inside of the canner. at least it was the last round of jars.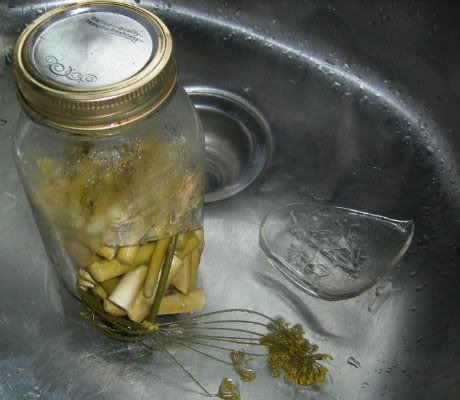 pickle slices in back, dilly beans in front, asparagus on the right.
all told, we had
2 containers of cucumbers
5 bunches of dill
8 bunches of asparagus
2 bags green beans
1 three pound bag of pre-peeled garlic
we ended up with
9 pint jars of pickle slicers (minus one jar that cracked)
9 pint jars of dilly beans
2 pints cut ends of dilly beans
1 pt of asparagus
14 quarts of asparagus (minus one jar that broke)
our brine recipe was
5 cups vinegar
5 cups water
1/2 cup pickling salt
every pint got two smaller sprigs of dill and one clove garlic. every quart jar got two larger sprigs of dill and two garlic cloves.
the dilly beans and asparagus got 1/2 tsp cayenne, 1/4 tsp red pepper flake, and also a pinch of yellow and brown mustard seed. Then we put some dried jalepeno in too. thats for a pint jar, double it for the quart.