on sunday june 30 my mom took me strawberry picking.
mom came up extra early and picked me up at 7:30. and its good we left that early. we got there about 10 minutes before they opened at 8am and there was already a long long line of cars waiting to get in. and these are the 'early' strawberries that were ripe. the regular strawberries weren't expected to be ready til 4th of july weekend. can you imagine how busy THAT will be?!!?
i picked a flat and my mom picked half a flat. $22.60 worth of strawberries. 10.8 pounds total. guessing on the math i picked maybe 6-7 pounds, my mom picked maybe 4-5 pounds.
mom measured out 2 zip lock baggies filled with 8 cups each, plus one big bowlful left for me, at least 7-8 cups more. tomorrow i'm gonna take the bus down to her house and we'll make strawberry jam with half the sugar most recipes call for. woohoo!
my fingers were stained pink even though i washed them twice.
the dogs were extra happy because they got to eat all the reject strawberries.
LOTS of slugs on/in the berries this year. it was kinda gross. i've never seen so many in all the years i've been picking (maybe 7 years).
mmm, no berries are ever as good as fresh picked. fresh picked ripe off the vine are SO awesome.
we only spent an hour picking, and about an hour cleaning.
on monday july 1 i went to my moms and made jam.
the leftover strawberries after two big zip lock baggies were filled with 8 cups each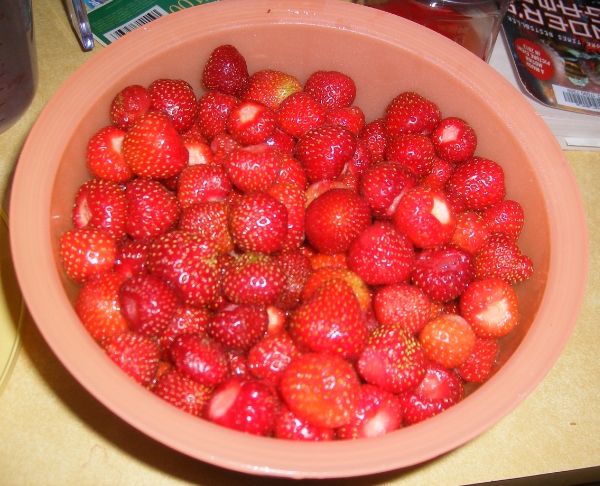 8 cups of berries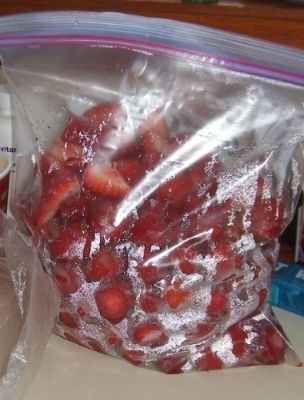 pot of mashed berries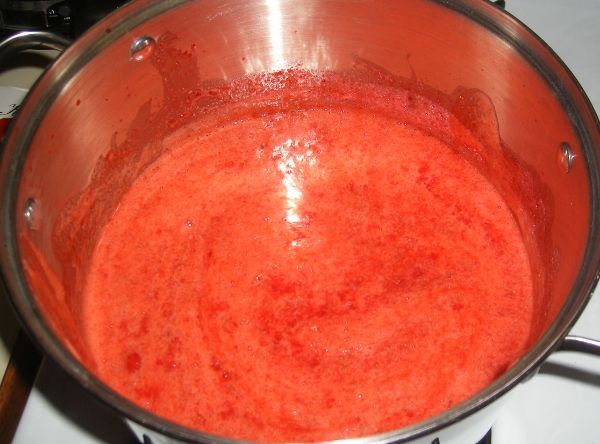 best berry masher ever! i mean, stick blender
foam tastes good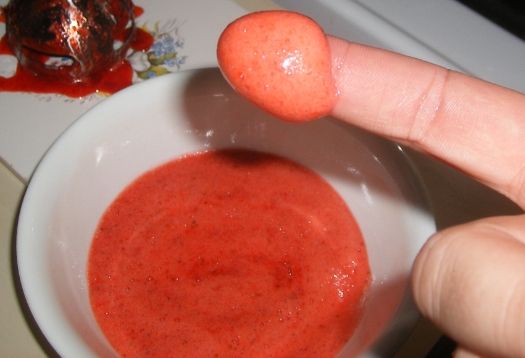 but there was LOTS of foam that had to be scooped off this year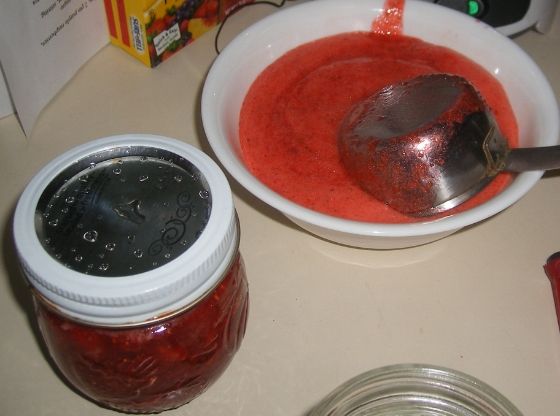 funnel helps keep most of the jam INSIDE the jars when filling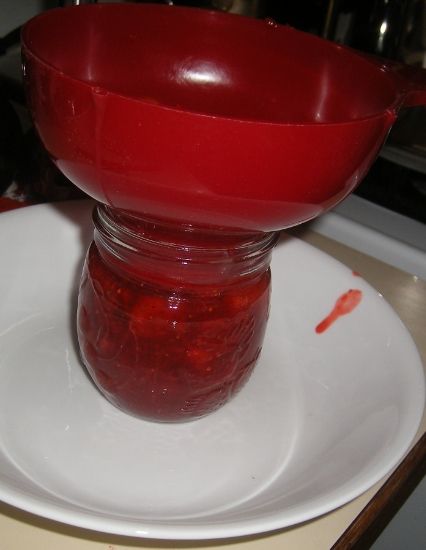 yummy yummy jam! first batch was extra large, we filled 7 jam jars, plus 4 more, and half a teeny jar.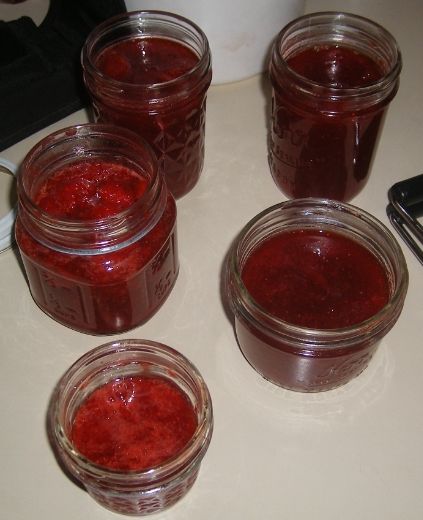 first 7 jars from the canner
seriously with the foam! so much foam (second batch)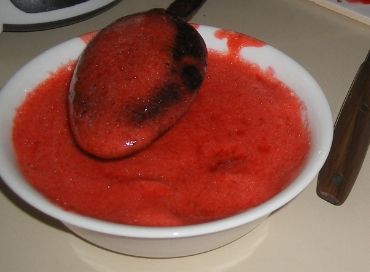 17 jars of strawberry jam!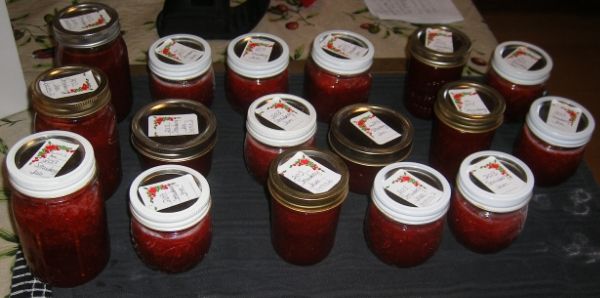 this year we did two batches.
batch 1
8-9 cups strawberries (slightly more than the second batch)
4 cups sugar
1 box surejell pectin (4 tablespoons)
made 11 jelly jars
batch 2
7-8 cups berries (slightly less than first batch)
2 3/4 cups sugar (this was an oops, we ran out)
1/2 fresh squeezed lemon
1 box surejell pectin
made 3 jelly jars and 3 pint jars
the stick blender worked GREAT to mash, but there was lots of foam in both batches
mash berries in pot with pectin. when liquid, add sugar. bring to a boil for 1-2 minutes. turn off heat. scoop off foam. fill jars. this year we processed only 5 minutes in canner.
total 17 jars, 14 jelly jars, 3 pints.
these batches turned out more runny. 2011 jam had 5 tablespoons pectin, but we only had two boxes this year so we tried only 4 tablespoons each. i think it needs 5 for sure.
someone asked if there was anything i could do with the foam so i did some googling and have suggestions for next year:
Save the foam in a microwavable container. Just pop it into a microwave for 30 to 60 seconds or so on high. Be sure to watch it the entire time, or it may boil over. You want to get it hot again and to boil up a bit.This removes the air bubbles. Once you remove it and it cools, it will look, act and taste like regular jam again! Rather than attempting to put this back into a batch for canning, this is the jam I stick in the fridge to use fresh!
or the butter method:
1 teaspoon of butter, margarine or vegetable oil, added before you heat the mixture will almost eliminate it. thats teaspoon, not tablespoon.
as to why we skim the foam:
It doesn't taste bad, but it is not the consistency most people like in jam. It certainly won't hurt you, though. It might somewhat shorten the storage life of the jam. Foam contains a lot of air. In canning, the jars are not filled to the top of the jar. This gap between the lid and the food is called head space and it gives the canned food room to "breathe." The food can expand during processing and form a vacuum as the jar cools. Foam in a jar of jam increases the head space. The extra head space does increase the chance of the jam molding after prolonged storage though.
since foam is from air... using the stick blender might be why we got MORE foam this time than before. still, the stick blender is far easier than the tater masher.